A Nigerian lady, Eniola, has taken to her Twitter page to give her reason why she won't be dating a broke man again.
According to Eniola, she once dated a jobless guy who she was helping, but he ghosted her the moment he got a good job. She revealed that he lost the job 6 months after and tried to come back to her, but she ignored him.
Lady gives candid reason why she will never date a broke guy again after her experience with one
She wrote,
"I once dated uncle fine boy without a job because I thought he had POTENTIAL, I'd send him money for food twice a month. Well, he stopped calling and ghosted me when he had a good job. I know what having money feels like so I won't be dating anybody WITHOUT MONEY.
By the way, he got fired after 6 months then he tried to "HEY" his way back into my life since 2016 but his messages are still there ON READ." she wrote.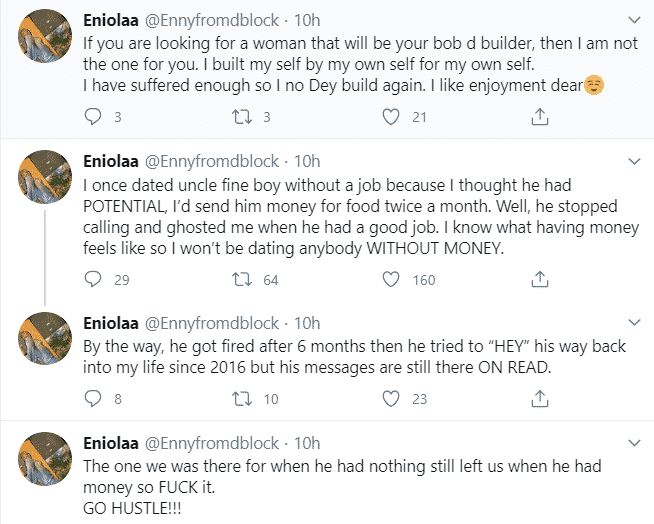 No woman wants to date or marry a broke guy. It's unfortunate when you think about how women always say, "There aren't enough good men out there". The truth is, there are. But they don't all come making big bucks. Some are blue collar, others have bad credit records. But the flip side is some of those very men are supportive of their women, creative and ambitious. With the right woman, who knows where such a man will be in the future.
ANALYSING THE SITUATION
But before dismissing or going along with your broke boyfriend, maybe you should try analysing the situation first since it might save you from regrets a few years down the line.
Being broke isn't a crime
This is especially so now that job creation and the economic situation of our country is so slow. Staying broke, however, is problematic. Simply put, despite the slow economic growth, no one should embrace being broke as a way of life. There are many creative options to maximise personal income that people, even those that have never been to school, have out there.
The issue is not that your man is broke and uneducated, but whether or not he plans to stay that way. A broke man is one that is both helpless, and refuses to get help in order to improve his income capacity. Being broke is not a matter of having a negative bank balance.
It is when you have an income, no matter how little, but have no intelligence to maximise its usage in a responsible manner that takes care of tomorrow. Virtually every woman we know can stand a man who earns far less than her, but is open and responsible about how he spends his income.