Natasha Thahane And Thembinkosi Lorch Serve Cute Relationship Goals Content On Social Media
Natasha Thahane And Thembinkosi Lorch Serve Cute Relationship Goals Content On Social Media. Now that the cat is out of the bag about Mzansi's latest celebrity couple, Natasha and her soccer player bo yfriend Thembinkosi Lorch are sharing the cutest couple goals moments. The two recently made their relationship Instagram official after posting pictures and story's of each other on social media and fans can't seem to get enough of them.
READ ALSO:THIS IS WHAT WE KNOW ABOUT NATASHA THAHANE AND LORCH..
Taking to Instagram, Natasha and Thembinkosi served much needed boo'd up content where the pair revealed the current honeymoon phase that they are in. The pair have been spending a lot of time together having gone on a tropical vacation together in Tanzania.
This past weekend the pair were definitely in each others company as the actress posted a video of the Orlando Pirates soccer star cooking. Natasha captioned the video with a question, wondering if Lorch knows what he is doing. Lorch laughed at the shade that his lady was throwing, claiming that at least the food served its purpose which was to fill her up.
"At least your stomach is full baby" he wrote.
Judging by what we saw in the video we would say that the soccer star isn't frequently in the kitchen, but we will give him an A for effort.
The pair first started trending after individual photos of themselves on holiday in Tanzania were posted at the same time, they both responded to the rumours by pouring cold water on the speculations denying having ever met. The couple then decided to let the cat out of the bag and confirm the rumours on social media, which everyone has been eating up ever since.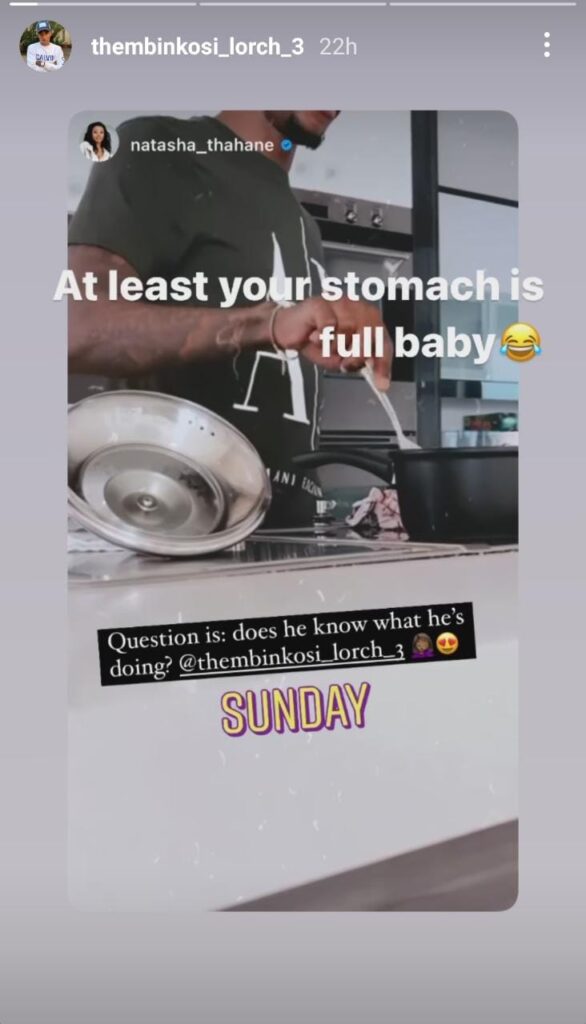 READ ALSO…
Natasha Tahane and Orlando Pirates Tembin Koshirochi are currently the hottest couples in Muzansi. But it not only changes the past, it cannot pretend that the past has never happened. Therefore, Muzansi is worried that she will not only dribble her, but also leave scars.
You may be wondering why the country is worried that soccer players will leave scars on the actress. Well, a week or so ago, we all learned that they were basing together and later confirmed rumors that they were dating. Of course, we love to see young and hot couples, so Tahat isn't a problem.
The only thing … just last year, a football star was arrested after he physically attacked his then-girlfriend, Nokupiwa Mattitibara, who then filed an assault complaint against him at the Midland Police Station. .. The 27-year-old Buccaneers midfielder was released on R2000 bail. Earlier this year, the charges against Roach were tentatively withdrawn.
Prosecutors have instructed South African police to conduct further investigations, and the NPA will be guided by an investigation process on whether to continue prosecuting Roach.
He was silent on the date side until he recently met Natasha. After that, the two officialize their Instagram relationship. Their fans said a bit about the relationship. Some praised the new couple, while others were worried that a soccer star would put her hand on her.
Fans Worried Thembinkosi Lorch Might Physically Abuse Natasha Thahane
Source link Fans Worried Thembinkosi Lorch Might Physically Abuse Natasha Thahane