Video: Teacher and student fistfight in classroom goes viral
Video: Teacher and student fistfight in classroom goes viral
What is your take on this situation? 🤔… LET'S FOLLOW EACH OTHER#rosemaryndlovu Jacob Zuma Lorch pic.twitter.com/dhOfp7j1h4

— Vote EFF (@Thwitha_) September 14, 2021
Video: Teacher and student fistfight in classroom goes viral
In a viral video that has since flooded social media, a teacher is seen exchanging blows with one of his students. The video which has since gone viral has got Mzansi talking. Could this be an act of boys will always be boys or its something else?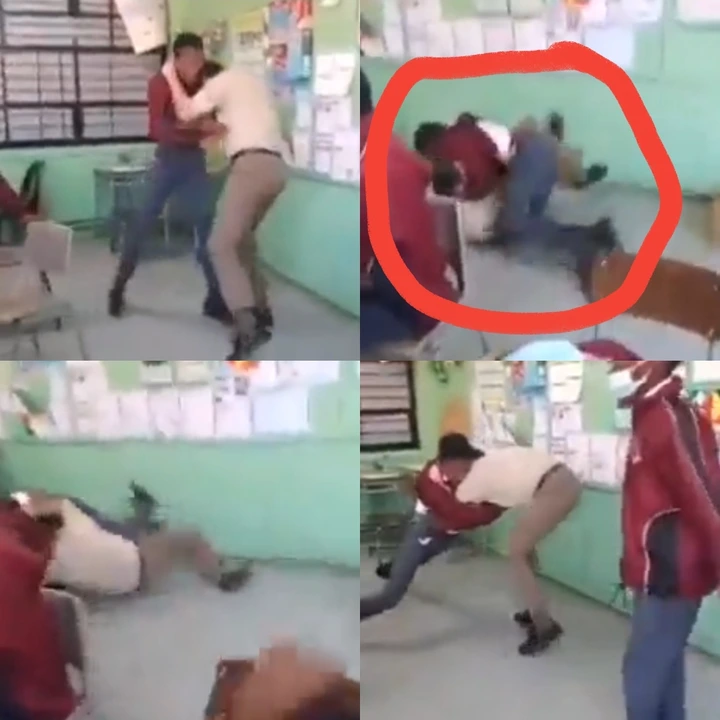 In the video, the student and the teacher are being recorded whilst exchanging fists in broad daylight on school premises. However, Mzansi has it that the fight might have ensued out of disagreement and they confronted each other.
It could be that the teacher was soo tired of the stubborn student and decided to take matters into his own hands. However, what's so disturbing is the fact that the fight is happening whilst the rest of the classroom is watching. You can follow this link to watch the video of a teacher and student fistfight  https://twitter.com/Thwitha_/status/.
Video: Teacher and student fistfight in classroom goes viral
However, in the wake of the viral video, the Ministry of education is yet to confirm the incident. Well, little is known about the teacher and the student.  But we can all agree that punitive measures must be taken in dealing with such cases. Of late students have become disrespectful and tend to challenge their teachers.
Alexandra has had yet another student death. According to reports, a boy, 16, was stabbed to death by a 14-year-old girl, believed to be his girlfriend. The 14-year-old is a student a Pholosho Secondary School in Alexandra.
The stabbing is said to have happened in a house in Alexandra on Thursday, 9 September. An insider revealed that the two were in a relationship. The 'couple' were said to have had a fight in the house, after which the girl stabbed her 16-year-old boyfriend to death.
Also Read: Videos of Plumstead High School pupils caught on camera m_asturbating on school grounds goes viral. 
However, the insider revealed that the injured boy's friends took him to a nearby hospital where he passed away. Education MEC in the province Panyaza Lesufi has shared his condolences with the family of the boy who was killed. According to News24, the incident occurred at 7 pm in the township. Lesufi explained that the information they received was that the pupil who died passed away due to his injuries while in hospital, not on the scene.