Here's why you should add vinegar while boiling potatoes
Vinegar causes the potatoes to form a thin crust that further helps in retaining their shape. Vinegar increases the acid pH levels of water which further helps the potato just like when you add a little salt to the water while boiling eggs
This hack has been suggested by several home cooks and chefs and the reason behind it is that vinegar can help the potatoes retain their shape. Vinegar causes the potatoes to form a thin crust that further helps in retaining their shape.
Vinegar increases the acid pH levels of water which further helps the potato just like when you add a little salt to the water while boiling eggs.
Here's Why You Should Add Vinegar While Boiling Potatoes
Boiling the potatoes in a salt and vinegar bath allows them to soak up all of that briny flavor before you dry them off and crisp them up in the oven. The result is a soft-in-the-center, crispy-on-the-outside potato that's loaded with flavor.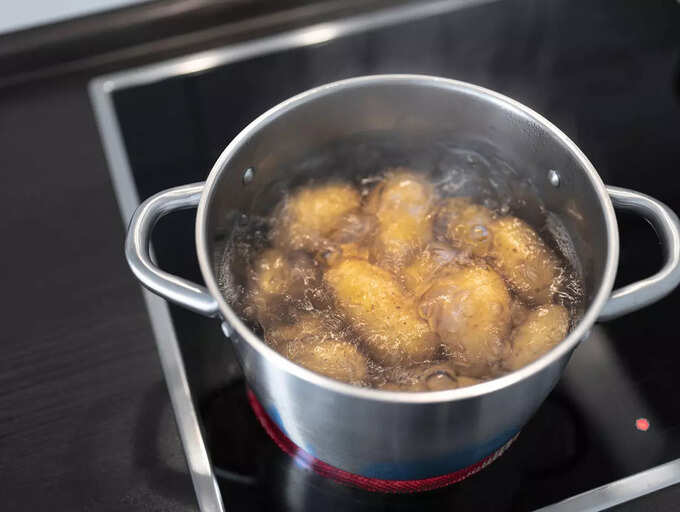 An acidic environment will slow down the breakdown of pectin in fruits and vegetables, so they'll stay firm and hold their shape while cooking. A basic environment will speed up this process, giving you softer/mushier vegetables.
For home fries I actually add a little baking soda to the water, you get a roughed-up, gooey surface that gets nice and crispy when fried
Vinegar To Use
From regular white vinegar to red wine vinegar and even apple cider vinegar, one can add any of these while boiling potatoes.
How Much Vinegar Do You Put In Boiling Potatoes?
Add a 1/2 cup of vinegar to the 1/2 kg of potatoes along with 1 tbsp salt and enough water to boil them well for 2-3 whistles in a pressure cooker.
If boiling in a saucepan, one must boil the potatoes for 20-25 minutes on medium flame or until they are tender.
Steps
Combine potatoes, 1 cup vinegar, and 1 Tbsp. kosher salt in a medium saucepan;
Add water to cover by 1".
Bring to a boil, and reduce heat.
Simmer until potatoes are tender, 20–25 minutes;
Drain and pat dry.
How Long Do I Let Potatoes Boil?
Boil 10 to 12 minutes for cubed, 15 to 20 for whole medium-sized, or 25 to 30 for whole russets.
Check with a fork or knife.
Potatoes are done when they are tender enough that a utensil easily slides into the middle.
How many salts Do You Add To Boiling Potatoes?
There are varying amounts of salt used in salt potatoes, but the standard would be around 2 Tbsp of salt for every 1 cup of potato boiling water