Nelly Tembe's Sister
Transport minister, Fikile Mbalula broke his silence after the sister of now deceased AKA's fiancee, Nelly Tembe posts heartbreaking photo of her younger sister.
Nondumiso Tembe who is a multi award winning actress, singer, song writer and dancer, said following the death of her younger sister, 22 year old Nelly Tembe words have been failing her.
She said her sister will be in their hearts forever.
"My baby, ngipelelwe amazwi- words fail me right now. We will hold you in our hearts forever. Lala kahle, mbali yethu," she said.
Nondumiso Tembe also thanked everyone who has send condolences to their family following the tragic death of Nelly Tembe.
"Thank you so much to everyone who has send kind words of comfort for our family ngiyathokoza kakhulu," she said.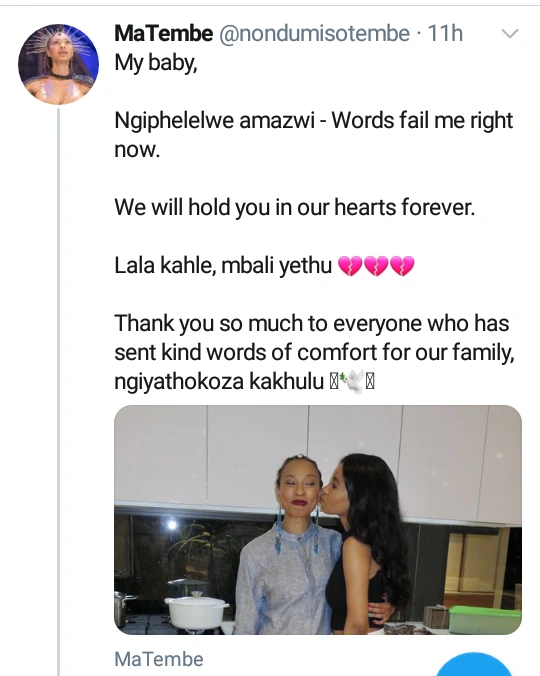 Fikile Mbalula said what happened to AKA's fiancee, Nelly Tembe is sad.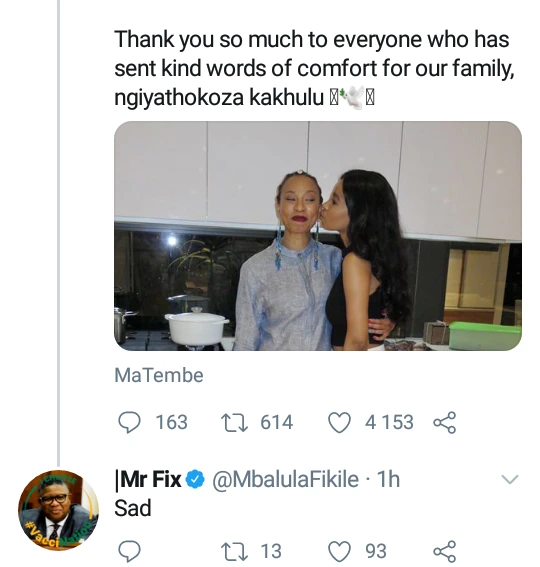 Nelly Tembe dies after she jumped from the 10th floor building in Cape Town where they were with her fiancè, the South African rapper AKA.
Nellie Tembe biography If the thought of her name reminded you of Nondumiso Tembe, you are on track. It turns out that Anele is one of Nondumiso Tembe siblings. She is the younger sister of the South African actress. Nodumiso Tembe played the role of Miss Miya on Generations. According to reports, Nellie comes from Durban. So, now, Nellie Tembe who is she? R
Nelly Tembe's Sister