Natasha Thahane lookalike gets loads of love from Twitter and her fans
– Natasha Thahane fans discovered her lookalike in the form of gorgeous and well-endowed tweep Olwethu Mbatha
– Fans noticed that Natasha and Olwethu have similar skin tones, lips and eyes – the only visible difference is their noses
– One fan even photo-shopped Olwethu's nose to look like Natasha's and, after that, the two ladies could have easily passed for twins
Natasha Thahane's fans were thrilled to discover her doppelganger.

Beautiful tweep, Olwethu Mbatha, looks almost identical to the stunning actress – right down to their luscious full lips.
Magnetic pic.twitter.com/3LEgiifmYA

— Big Bidness (@OlwethuJMbatha) July 7, 2020
Fans couldn't wait to point out the resemblance and quickly made it a trending topic.
One fan thought that Olwethu might be Natasha's sister.
Ngwato Makgata-Gaddafi asked, "Natasha, your sis?"
Another said that Olwethu could easily play Natasha's character on The Queen.
@_LouisRey wrote, "Usho uma ufuna ukuba ingane kaJerry eseMelika (You should say so if you want to be Jerry Maake's daughter who's in America."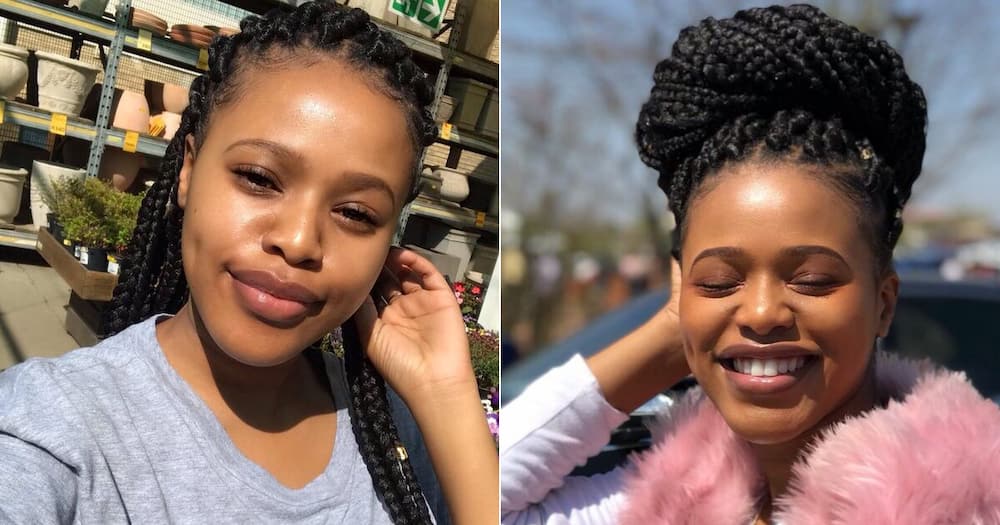 Is it just me or y'all see it too ? https://t.co/vlvrAWFP7B pic.twitter.com/gmLJvObflD

— iPholoba (@ndumisongcobo_) July 7, 2020

Natasha Thahane lookalike gets loads of love from Twitter and her fans
Source: Twitter
One fan took it to the next level when she actually photo-shopped Natasha's nose onto Olwethu.
The resemblance was then seriously uncanny.
Natasha is one of Mzansi's most accomplished actresses, so it's no wonder peeps are obsessed with her.
Magnetic pic.twitter.com/3LEgiifmYA

— Big Bidness (@OlwethuJMbatha) July 7, 2020
Usho uma ufuna ukuba ingane kaJerry eseMelika https://t.co/N3jDi3idRQ

— ❤️ (@_LouisRey) July 7, 2020
Magnetic pic.twitter.com/3LEgiifmYA

— Big Bidness (@OlwethuJMbatha) July 7, 2020