Photos: 6 Expensive Things Owned By Dp Ruto
William Ruto has an estimated net worth of $450 million.
Net Worth: $450 Million
Date of birth: December 21, 1966
Country: Kenya
Source of wealth: Deputy President of Kenya and businessman
William Samoei Arap Ruto is a Kenyan politician currently serving as Deputy President of Kenya since April 2013. On 15 March 2022, Ruto was endorsed by UDA as the party's presidential candidate for Kenya's presidential election set for August 2022.
William Ruto'S Bio
Born: December 21, 1966 (age 55 years), Kamagut, Kenya
Spouse: Rachel Ruto (m. 1991)
Office: Deputy President of Kenya since 2013
Party: United Democratic Alliance
Children: Nick Ruto, Abby Cherop Ruto
Organization founded: United Democratic Movement
Previous offices: Acting President of Kenya (2014–2014), Minister of Agriculture of Kenya (2008–2010)
6 expensive things owned by DP Ruto
The Deputy President's full name is William Kipchirchir Samoei Arap Ruto. He was born on 21st December 1966. He was brought up in a Christian background that has made him fear God until today. He is currently the Deputy President of Kenya after he joined politics in 1997 when he was elected as the MP for Eldoret North Constituency. At that time he was also the secretary General of KANU. Apart from that, he has also served in the following ministries:
 Ministry of Home affairs.
Ministry of Agriculture.
Ministry of Higher Education science and Technology.
Dr. William Ruto holds a Ph.D. in Plant Ecology. He was the Christian Union leader at the University of Nairobi and the chairman of the University of Nairobi's choir.
William Ruto Wealth And Net Worth 2022 Top 10 Expensive Things Owned
Sentrim 680 Hotel is estimated at Ksh 3.1 billion. It's located in the center of Nairobi, a 5-minute walk from Kenyatta International Conference Center.
Similarly, Weston Hotel in Nairobi that's estimated to be worth Ksh 2.6 billion. It's a 4-star hotel with 120 rooms, situated opposite the Wilson Airport in Nairobi City, Kenya.
Orterter Enterprises Limited is valued at Ksh 2.5 billion.
Residential Properties along Jogoo road in Nairobi are valued at Ksh 1.6 billion.
Uasin Gishu Homestead has an airstrip and a man-made lake in the compound valued at Ksh 1.3 billion.
The Oseng Property Limited is valued at Ksh 1 billion.
Amaco Insurance, where he is the topmost shareholder, with approximately 1 billion Kenyan Shillings.
Furthermore, he runs a Poultry Business Hub at his Turbo home, Uasin Gishu county valued at KSh 830 million.
Mediamax Networks and K24 TV station where he's the topmost shareholder in 2022 (87%).
Dolphin Hotel in Mombasa. Also, Ruto owns Dolphin Hotel near the Indian Ocean in Mombasa that's estimated to be 600 million.
Rongai Flats. Again, Ruto owns Osere flats in Rongai valued at Ksh 500 million.
His Karen Home is estimated to be worth Ksh 500 million.
And finally, William Ruto also owns 5 choppers worth Ksh 1.3 billion.
Below are therefore some expensive things owned by Dp.Ruto in Photos
1. Sentrim 680 Hotel.
This is a hotel located in Nairobi. Hotels are one of the major businesses one can own. Reports indicate that the hotel is estimated at Sh 3.1 billion.
2. Weston Hotel.
It's also located in Nairobi. As explained above, the Deputy President owns this hotel which is regarded as a 4-star hotel. It has 120 rooms and is adjacent to Wilson Airport.
3. Uasin Gishu Home.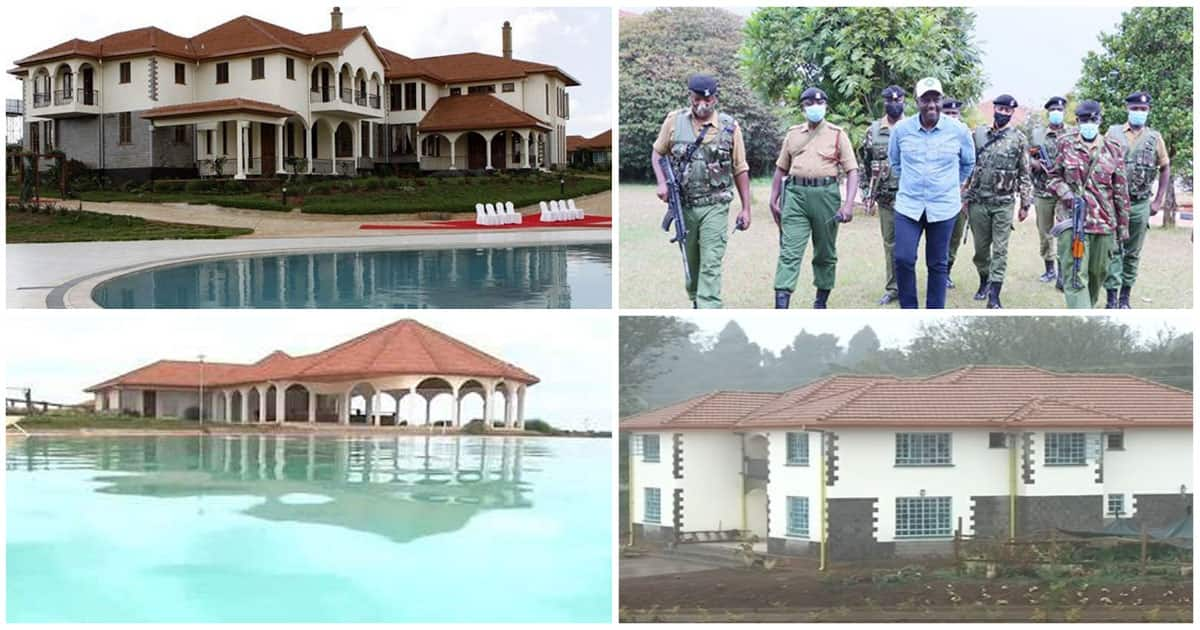 This is a palatial home that is estimated to cost close to Sh 1.3 billion.
4. Dolphin Hotel in Mombasa.
The Deputy President owns Dolphin Hotel which is estimated to be around 600 million.
5. A chopper
which is estimated to cost Sh 300 million.- He has several of them
Other Properties