News
Trending
Watch: Painfull Nkoyoyo dam video. Child records father scream as he drowned
Nkoyoyo dam video
Nkoyoyo dam video
A two-minute disheartening video is doing rounds on social media showing Child record his father scream for help as he drowned at the famous Nkoyoyo Dam.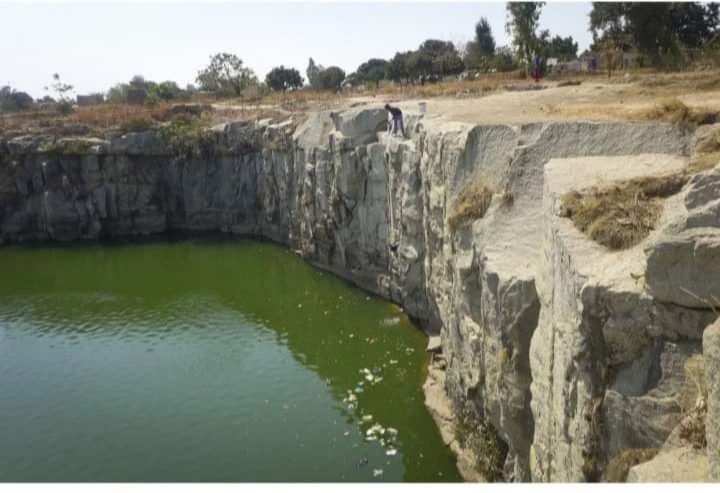 The video starts as the unknown young boy starts to record his father jump into the quarry as he smiles. The tragic moment is captured at the one minute mark as the young father starts to scream for help.
The father is seen trying hard to get a grip on anything that could help him stay afloat or get out of the dam but to no avail. The Son continues to record as his father drowns.
The saddening video is said to have been recorded at the famous Nkoyoyo Dam Quarry in Swaziland. The Dam is a favorite spot for locals who frequent there to swim and pass time with friends and family.
This particular incident is one among many that have happened at the dam. This one has however captured the attention of many following the sad recording.
No one deserves to see her parent die like that. This is so heartbreaking and painful. There's a video currently circulating of a father who went swimming with his daughter, he asks his daughter hold the camera then he goes in a dam Called Nkoyoyo quarry Dam , a couple of minutes in he starts struggling then drowns, while his son was recording. Just as he went deep in water the son shouted "daddy uzo phuma? Ngiyak'shiya mina". The dam is known as an evil death dam.
Watch the video below
Watch: Painfull  video. Child records father scream as he drowned
Many people have had different opinions about the dad. While others sympathize with the family. A majority say he was stupid to have gone into the dam without any lifesaving equipment.
To see the video click the link below or search Eswatini Live Feed on Facebook.
NB : Note For Sensitive Viewers
https://www.facebook.com/109439370433030/posts/432976978079266/
Like,share and comment
May his soul RIP.